Band of the Week: The Oxbow Lake Band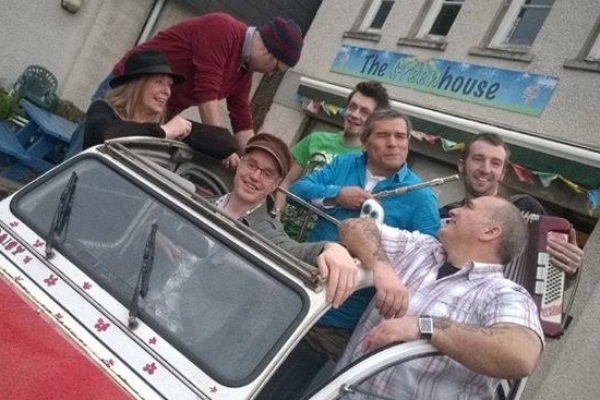 This week on shmuFM, we're featuring The Oxbow Lake Band - you can hear them live on the Band Of The Week Show on Monday the 4th of August from 8-10pm, where you'll get to know the band, what they're up to, and no doubt hear loads of brilliant songs from beneath many different genre umbrellas.
The Oxbow Lake Band hail from Aberdeenshire - they're an actively gigging and recording band, with many legs and arms. They have a new EP coming out imminently as a 7" (yes, an actual record - better get up to the loft and dig out that turntable)!
Musically, The Oxbow Lake Band is a genre-defying bunch of grassroots musical magpies, multi-instrumentalists and good time Charlies. They also like to dance like their dads, and have a taste for experimenting. They were all from the beautiful wee village of Collieston, which they're sure informed their music and how they played.
Since then we've gone back to a standard(ish), and ever-evolving, band lineup as The Oxbow Lake Band. "We've continued to experiment and have been through periods of writing trad tunes, rockier influences and our love of jazz, soul, funk and hip hop. It's a wee cottage industry we have here; all the artwork, recording and production, promotion, selling etc. is done by the band members and friends, so a big thanks to them all."
As well as the Band of the Week Show, you can hear The Oxbow Lake Band's tracks on any of our live shows by getting in contact with the studio on 01224 483413, by texting 60300 (type SHMU, leave a space and then your message) or by emailing studio@shmu.org.uk.
The Band Of The Week Show is repeated every Friday at midnight until 2am on 99.8FM, and you can listen to the show here on our website using the live stream or Listen Again feature.