What is shmu?
Station House Media Unit (shmu), established as a charity in 2003, is one of the core cultural organisations in Aberdeen, and is at the forefront of Community Media development in Scotland, supporting residents in the seven regeneration areas of the city in radio and video production, traditional and on-line publications, music production and digital inclusion. The organisation also supports other disadvantaged communities, both geographic and communities of interest, with an employability and training arm and a programme for offenders, both pre and post release.
Support shmu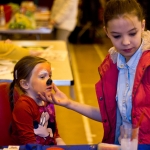 There are many opportunities for individuals, organisations and other partners to support our work. Whether you are interested in sponsoring an individual to undertake a life changing course or you want to invest in our broader community based development we are always delighted to talk through the many options available at shmu. shmuTRADE is the commercial arm of shmu, offering 'ethical' services with a tiered pricing structure. Services include video production, graphic design, sound recording and Internet based services.
Volunteer at shmu
There are a number of exciting volunteering options available at shmu
Our people
People are at the heart of everything we do. Meet our people.