Positive Transitions 17 Graduate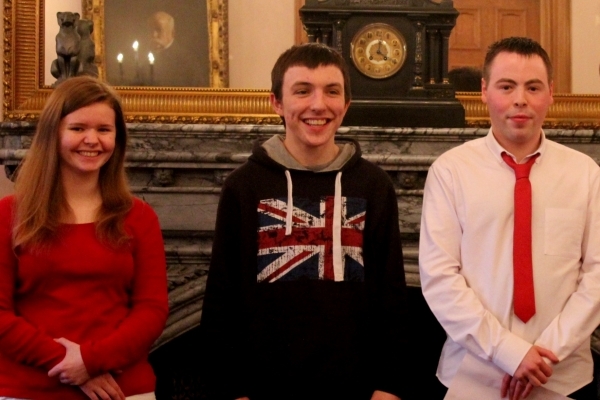 The 17th Positive Transitions graduation ceremony took place on Monday 7th April in the grand surroundings of the Townhouse. The event was a particularly inspiring one which left a few of us with a lump in our throat after an emotional and heartfelt speech from a former trainees mum, Sharon Horne.
She spoke of how her son, Daniel, had felt let down by a number of agencies including his school but praised shmu, who had 'stuck by her son through thick and thin'. With the support and encouragement of the team at shmuTRAIN, Daniel is now happy in full time permanent employment.
It was closely followed by a speech from a former trainee, Georgia McGhee, who humbled us all with her very kind words about her experience not only on the PT course but her continued volunteering through shmuFM. Georgia said she enjoyed her volunteering at shmu as she "felt part of a team, a family."
We also heard from our graduating trainees, Dave talked about how the course helped him greatly with his confidence; Rhys talked about his success in finding employment; Amie felt the course had helped her back into a routine and had given her a reason to get up in the morning and Connor said that he felt the course helped him more in 2 weeks than school ever had. Amy, who was away on holiday for the graduation, recorded her speech in advance and said that the joining the course was the best decision of her life.
Geoff Cooper of McDonalds also spoke about his experiences employing young people and hosting a number of employer visits over the past few courses. Neil MacLennan, Acting Service Manager (Families and Vulnerable Learners), Education, Culture and Sport from Aberdeen City Council rounded off our evening and presented certificates of achievement to each of our trainees.
Our comments book was well used at the end of the event with the word 'inspiring' appearing several times. Amie's mum wrote: "Brilliant, thank you all for taking Amie out of her shell. I applaud you all."
From the eight trainees who began the course, five are now in employment, one is moving onto a training course and one has been accepted to college to begin in August 2014, only one trainee from this course is not yet in a positive destination but will continue to work with shmu towards an outcome.
If you would like to be a part of a future PT course or graduation either as a trainee, partner, speaker or audience member please contact Brian Webb on 01224 515 013 or brian@shmu.org.uk