Film to be shown at St Fittick and 50+ Festivals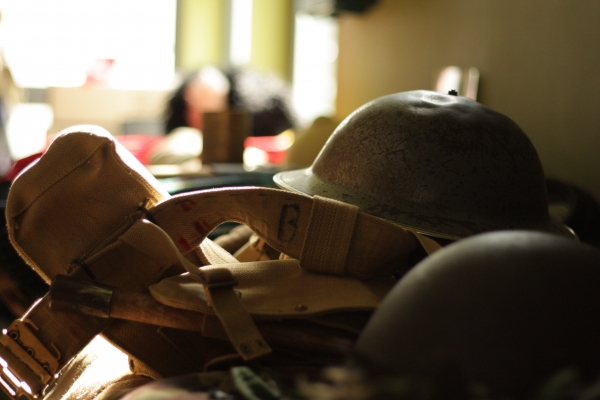 Young volunteers and trainees from Station House Media Unit (shmu) have teamed up with the Saint Fitticks Art Festival to create an oral history documentary about Aberdeen and memories of their time during the Second World War.
'Wartime Memories of WW II' will be screened as part of St Fittick Art Festival on Tuesday 2nd and Wednesday 3rd September at 6.30pm at the Old Torry Community Centre and on Tuesday 10th September at 2pm at the Belmont Cinema on as part of the 50+ Festival. The screening of the film is free at both events.
Veterans from the Gordon Highlanders, along with veterans from other battalions and 'war babies' from Aberdeen were interviewed to discover their stories and experiences of serving in the war and what it was like living in such turbulent times.
This intergenerational project introduces us to personal accounts of events that happened long before some of the investigative team's parents and in some cases, even grandparents were born, giving the participants a picture of how life was growing up in that era, a stark contrast to how things are today.
The group of young film-makers, part of shmuTV have been rushed off their feet working with Aberdeen International Youth Festival (AIYF) and the Saint Fitticks Art Festival over the summer months, researching, interviewing and recording material for 'Festival TV' and 'Wartime Memories of WW II'.
shmuTV offers training and support at all stages of the film-making process, from script to screen, to producing commissioned work for local projects. Youth TV also provides multi camera studio training for young people to broadcast their own live weekly TV programmes.
For more information on the St Fittick Art Festival visit www.saint-fittick.org.uk, and for info on the 50+ Festival visit www.aberdeencity.gov.uk/50plus/ where you can download a brochure with all the event listings.
Contact Us
To find out more about the BFI Academy
Get involved
---
If you would like to be part of the BFI Academy please download the application pack and send to bfi@shmu.org.uk
Commercial Projects
shmuTV has over 15 years of production experience across the North East. We support organisations, companies and individuals to make their own film, by providing training or equipment, or we can do it all for you.