Tullos Community Wildlife Garden Site Visit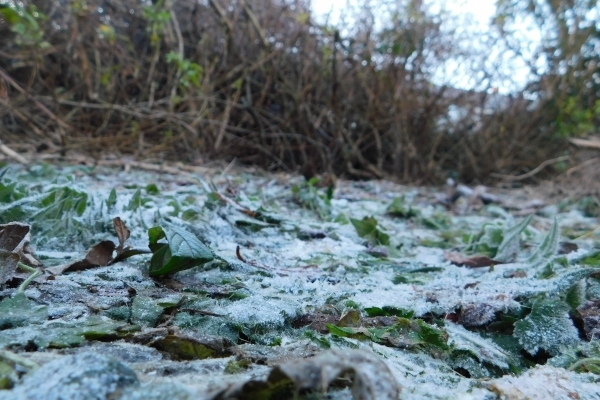 On a fairly cold Saturday morning in January members of shmu's Youth Media Team wrapped up in lots of layers and took a trip down to Torry to visit the Tullos Community Wildlife Garden site.
The site has gone unused for the last few decades and has been left to grow wild with no human intervention but now the time has come to change that. The Communities Team in Torry are looking for a group of local people to help them turn it into a community garden which people from across the community can enjoy.
After we had been shown around the site by Anne-Marie and Jade we took a walk down to Torry Youth and Leisure Centre where we got to look over the plans for the garden, talk about the ideas and, most importantly, grab a cup of tea to get warm!
We spoke to Anne-Marie Steehouder-Ross, who is the Community Develoment Officer for the project for some more information.
What motivated you to start the project?
I was asked to look at a bit of work in Torry which was around something called participatory budgeting. This is a way of looking at how we decide how council money is spent and it involves local people more so that's where the project came from. There was money available to spend and a large unused green space that we wanted to look how the local people wanted to use it, so we gathered lots of ideas and that's how we involved the local people.
How long have you had this idea?
Well the project itself where we were looking at what we were going to do with this space has probably been ongoing for two years now. When we initially went around to speak to people to gather their ideas from the three streets and the wider area around the green space it was probably September 2016 which was a long time ago now.
What's the most difficult part of the project that you've faced so far?
I think it's taken a long time to get to where we are now but I'm happy that we're going get to see the garden come together in March when the pathways and planters and everything are going to go in. It's been quite an unusual project and I don't think something like this has been done too often, certainly not in my team. Involving local people who really want to get involved has been hard cause they can't see what the gardens going to look like yet but soon they will so hopefully then lots of people will be round.
What schools have been involved in this project?
Well we spoke with all the schools in the area, so Tullos Primary, Walker Road Primary and Torry Academy but we were at Walker Road last week doing a big assembly with all the children. We told them all about the garden and we did quizzes about creatures and creepy crawlies, and they were really engaged, and I think they really enjoyed hearing about the garden.
What will people be growing in the garden?
There will be eight planters and four of them will be disabled access as will the paths that come into the garden. I think people might want to grow vegetables and some small fruit bushes, so things like potatoes, carrots, onions, herbs are quite good things to grow as well, they are quite easy.
What are your overall goals and aims with this project?
One of the things we felt that we really wanted to achieve was to involve local people in deciding how the money going into their area was being spent. We wanted it to be spent on something that they really wanted as a community and hopefully we have achieved that. About 88% of the people that we spoke to have said that the community garden is something that they are happy with and they would really like it to go ahead. We want to have somewhere that is open and involves the local community and that they have some ownership over. That's what we really want to achieve and making a nice space out of somewhere that was not a very nice space and wasn't used for a long time will now be able to be used by the community.
What impact will this project have on the wild life and the local ecosystem
Hopefully it will have a positive impact. What we didn't want to do was destroy too much of the shrubbery and the trees because we know that's where the birds live and the insects and the small animals. We want to take away as little of that as possible, but we will have to build the pathways through the trees and bushes. There will be things like bug mansions and the bird houses we can build to give a new habitat to small animals and insects.
How will you stop problems like littering and fly tipping?
Well I think the area has been used for that in the past but now that all the work is taking place and it's cleared out and it's made as a nice environment to be in, we would hope that going to stop people putting things over the fence or dumping thing in the area. If it becomes an attractive space people are going to hopefully take some responsibility and not want to do that.
What else will you be doing in the future?
We've got lots of thing we'd love to do in the area. There's ideas of having educational kind of classes and things for children, toddlers, families to come in and learn about nature and growing and all the kind of wildlife that's in the area. We've got ideas about art projects and there's hopefully going to be some recycled play equipment with tires and things and again that's opportunities to folk to get involved in building them and making them. We'll also have things like teddy bear picnics or Easter egg hunts depending on what time of year it is so there's scope for so many things to happen.
If you would like to know more about the Tullos Community Wildlife Garden contact Anne-Marie Steehouder-Ross on asteehouder@aberdeencity.gov.uk or call 01224 498164.