Youth Journalism Group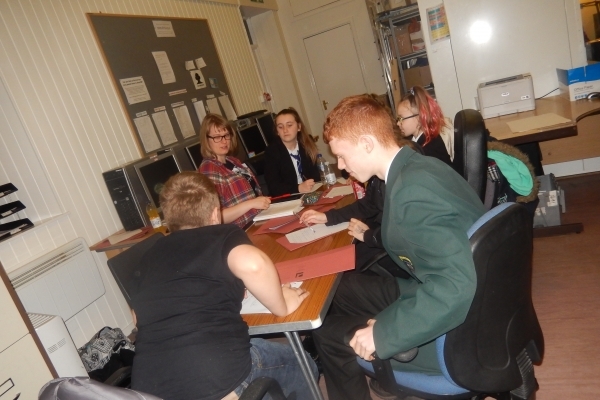 2015 sees the launch of shmu's brand new youth journalism group. They will be out and about, covering stories for the shmu website and each of the community magazines. Watch this space for updates on what they are up to. The group have already started working on articles which will be included in the spring editions of the community magazines. For their first assigment we got them to write a short paragraph to introduce themselves to shmu's usual followers.
Yasmin
Hi! My name is Yasmin. My hobbies include horse riding, dancing, swimming and coming here to SHMU. I participate in lots of things at SHMU which includes film and radio. I really like art at school. If people were to describe me in three words they say hyper, sassy and outgoing. If you are nice to me I will be nice to you too, if you're nasty to me I can turn in to one of your worst enemies. If I could interview a famous person I would pick One Direction and I would ask them if they would marry me. Hopefully you listen out for me on the radio, peace out!
Lukasz
Hi, my name is Lukasz. My hobbies are badminton, model making and art. My favourite book is How to Train your Dragon which is a series of books. My favourite song is "I want to ride my Bicycle." The person I would most want to interview is Steve Tyler.
Klaudia
Hello, my name is Klaudia and I go to school in Aberdeen. Myhobbies are art, music, maths, games and YouTube. I'm planning to do YouTube videos one day. I have a stuck up personality and I am focused a bit crazy, plus evily nice. I love dinosaurs and I feel like one each time my birthday comes. I play seven different instruments. I'm planning to be a game designer one day. Overall I'm cheerful when I'm not tired but if you stand in my way I will eat your soul.
Abby
Hi, I'm Abby and I'm from Torry, Aberdeen. I'm in first year at school. My hobbies are snowboarding and singing. I like to write stories and I like reading. I also do radio, music and film at SHMU. I also go to Girls' Brigade. My favourite subject is geography because I like to find out things about the world and the conditions in other parts of the world.
Connor
Hello, my name is Connor Robertson. I am 15 years old and I am from Aberdeen, Scotland. My hobbies are running, reading, drawing, story writing, playing video games, singing in my school choir and volunteering at shmuFM. I am also involved in my school athletics club. When I leave school I want to become an author. My idols are J.K Rowling and Roald Dahl.
Fern
Hi, I'm Fern and I'm from Torry. I'm in first year at school. I like to draw and swim. I also like to write my own stories. I enjoy going on the radio here at SHMU so listen out for me. I also like to do film, journalism and music here. Journalism is fun for me because I like writing stories. I would like to be a journalist or a therapist when I'm older. My favourite subjects at school are art, gym, history and RMPS. If I got to interview a famous person I would interview Beyonce. I would like to interview her because I like her music and she's kind and always happy.
The youth journalism group is amde up of young people aged between 12 and 18 from the regeneration areas of Aberdeen. If you would like to get involved then get in touch with Laura on 01224 515013 or email laura.young@shmu.org.uk.