Youth Media at MayFest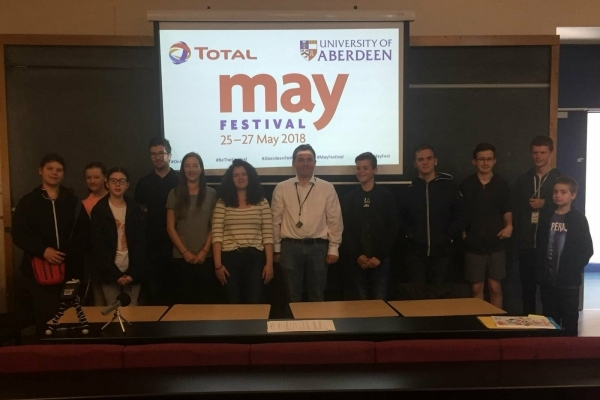 On Saturday the 26th of May members of shmu's Youth Media Team were invited to take part in a science panel called Science on the Spot as part of the 2018 May Festival. We showcased a film we produced as part of British Science Week back in March and got to post questions to several scientists. Members of the panel included Francesca Mancini who is a conservation scientist/ecologist, Professor Marco Theil who is a Mathematician/ physicist, Kirstie Rickaby and Grant Strachan who are both chemists.
We arrived at the Aberdeen University campus 10am with all our camera equipment, hopped out the car and trekked through campus. After getting lost and asking a member of security where the New Kings building was, we found the venue. We lugged all our equipment up several flights of stairs and found the room.
When we got into the room we found that the seats were all set up for us. We set up our 2 cameras at the back of the room and chose what questions we were going to be say. We were away from our usual Saturday show which you can usually hear 10am till 1pm every Saturday. We felt a bit nervous but we were looking forward to the challenge. Once everyone was seated we showed our video that we made called Day of Discovery. The audience was quiet and respectful throughout. We then started our panel questions and we got a lot of information from the scientists. It was a really exciting thing to be part of. We asked the scientists to explain their roles, what was their inspiration to become a scientist, what kind of things they researched and about sharing their research with the public in a way that made sense to them.
It was great for us to get to be part of such a different activity and we'd love to do it again!
You can tune into the Youth Media Project on shmu 99.8FM every weekday between 4 and 5pm and every Saturday between 10am and 1pm or listen online. You can also check out a copy of the latest edition of their magazine called Journalogical on our website www.shmu.org.uk/press.
View our Day of Discovery video here: