Youth Media team gain more Saltire Awards!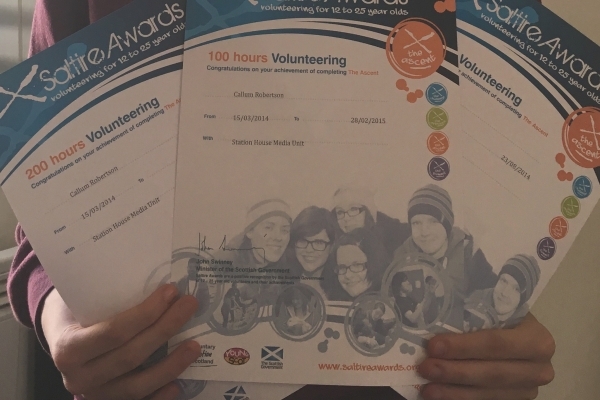 This month we have seen many of the Youth Media crew receiving certificates for their Saltire Awards!

Callum, who has been involved in Youth Media since March 2014 has received his Summit award, which signifies 500 hours volunteering at shmu. He has achieved this by being involved in regular Tech show broadcasts, which are on at 4-5pm on 99.8fm every Thursday, and regular Saturday shows, where the Youth Media team cover a range of topics relevant to young people, differing every Saturday morning between 10am and 1pm.
Yasmin joined in October 2014 through a series of taster sessions of the Youth Media program, and is a part of many regular weekday shows and Saturday shows. Yasmin has also completed her journalism and film training, and is about to participate in YAMP (the Young Artists Music Project).
Lukasz also joined in October 2014 through the Youth Media tasters and has been a regular member of the youth radio group as well as a regular contributor to the Youth Media Magazine, Journalogical.
For more information on how to join the Youth Media programme, please contact Denise Reid on 01224 515013 or denise.reid@shmu.org.uk.