Film Quiz at the Belmont - "Nobody puts shmu in the corner!"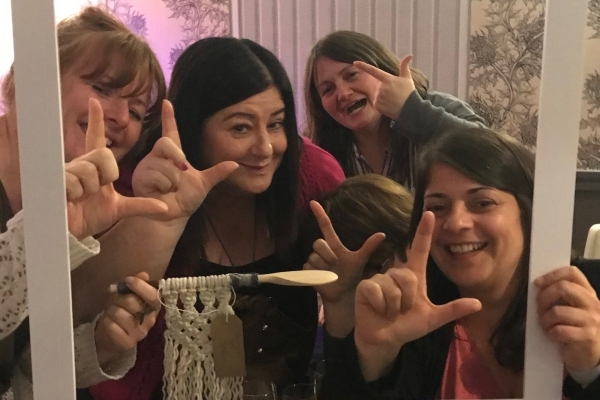 Thanks to everyone for coming along to our film quiz last Friday! We raised just over £250 for our Paving the Way to Woodside fundraising campaign! Thanks so much to the people at The Belmont Filmhouse for offering us a space in the city centre to hold our charity event - we have partnered with them to bring the 2018 BFI Film Academy to the city.
We had 8 rounds of trivia, including Adaptations, Soundtracks and Cult movies, with our awesome shmuFM volunteer, Aron acting as Quizmaster for the evening. He did a great job - his delivery of the quotations round was a particular highlight. We had the ever-helpful Lori, our Youth Media Development Worker on hand as Head Marker for the evening, ensuring that the admin side of things ran smoothly - thanks to both for their dedication and help on the night!
Some awesome raffle prizes were donated by the lovely folk atHaigs, Juniper, Junction Arts and Flash Photography Aberdeen, with our winners of the night going hom eiwth £50 of vouchers from the newly opened Aberdeen location of Tony Macaroni. The Losers (the aptly named 'We Thought This Was Bingo!' after attending our Rock'n'Roll Bingo nights!) went home with a wooden spoon donated by local crafter, Quarry Wood - which they were more than happy to pose for photos with at the end of the evening!
This money raised will be a great help in buying new studio equipment for our studios in our newly refurbished building in Woodside. Last week, the BFI Film Academy, which is run in partnership with NESCOL and The Belmont Filmhouse, was launched. This is a great opportunity for young people in the city to learn filmmaking skills, working towards making a short film with industry professionals. With new TV studios in our Woodside building, perhaps they will be some of the first volunteers using our new film equipment at shmuHQ when we make it back to Woodside!
Be sure to keep an eye on our Facebook page for upcoming charity events. Next up is our Pub Quiz #3 at The East End Social Club, Seaton on 23rd November! See you there :)
Other than giving us a donation, there are many ways you can support us!
Help us transform communities by donating to shmu. By donating where the need is greatest, you are allowing us to prioritise and plan how funds are spent.
Read about the people who your donations support, news from our staff and find out more about plans and projects on our blog!
By supporting shmu, key corporate responsibility objectives are reached while giving back to the community, motivating and educating staff.
Support a project
If you are interested in specific areas of our work, you can direct your money somewhere specific.
shmu is a friendly place where everybody is welcome. Click here for more information.