Fundraising success at the Tour de Catterline!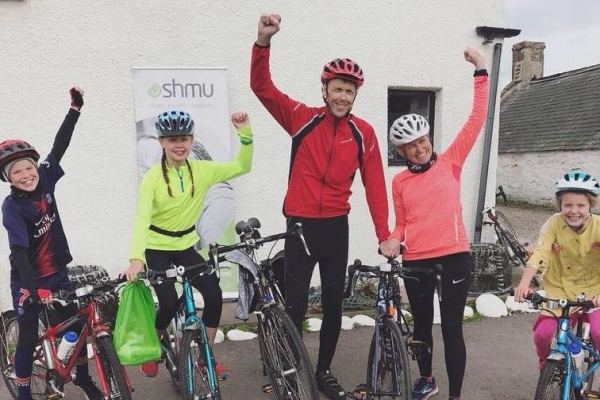 It was a beautiful day for the Tour de Catterline fundraiser last Sunday! We are so proud of everyone who took on the 50, 35 or 10 mile cycle routes to raise money for our building in Woodside! With over 75 participants, over £750 was raised on the day - a tremendous amount to add to our fundraising total!
A special thank you goes to the Chair of the shmu Board who organised the event alongside other Catterline locals - and thank you to Bikeremedy for providing gifts, and to those at The Creel Inn who fed and hydrated our cyclists after an epic ride! (We've heard the lentil soup was incredible!)
Congratulations also to the winners of the coveted Yellow Jersey - the family who cycled the 35mile route together. The youngest was only 8! Well done to everyone!
We are delighted with the support we received on the day, and so grateful to see the money raised go towards our building in Woodside. All the money raised at the event will go towards getting the equipment needed to full fit out our newly refurbished building in Woodisde. New equipment will provide a much needed upgrade to our studio and community spaces - bringing our facilities up to industry standard for our volunteers and programm participants.
Would you like to help us raise funds for our Paving the Way to Woodside campaign? Keep an eye on our facebook events page for events to attend, or contact our Fundraising Officer, Frieda, for more info on how to take part in our fundraising efforts on frieda.strachan@shmu.org.uk.
Other than giving us a donation, there are many ways you can support us!
Help us transform communities by donating to shmu. By donating where the need is greatest, you are allowing us to prioritise and plan how funds are spent.
Read about the people who your donations support, news from our staff and find out more about plans and projects on our blog!
By supporting shmu, key corporate responsibility objectives are reached while giving back to the community, motivating and educating staff.
Support a project
If you are interested in specific areas of our work, you can direct your money somewhere specific.
shmu is a friendly place where everybody is welcome. Click here for more information.